In the first post of this series, we covered the geocoding of entities in metropolitan France using INSEE data and entity data provided by expert indexers.
This process rapidly generates a large number of data points. Even though the currently published Gascon Rolls contain only a subset of the full dataset, there are already many thousands of unique entities encoded into the XML. A large subset of ...
As part of the calendaring process, historians working on the Gascon Rolls routinely identify and encode a variety of types of entity: people, places, things, entry type and so forth. This information, whilst useful in itself, may be considered most useful when placed in a broader aggregate context. How did things change throughout the life of this foothold of English royalty in France? Did the focus move over time, from one town to another, or from one wealthy family to ...
In which countries did the administration take an interest?
To answer this question, we will use RWorldmap, a library that I have mentioned in previous posts. RWorldmap is at its best when used for visual analytics.
The illustration below is a map showing the frequency of reference to different countries in the published Gascon Rolls.The darker blue the country, the more prominently it features in the Rolls.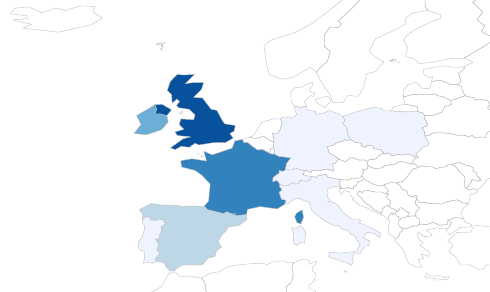 Posted on May 8, 2014, 10 a.m. by Simon Harris (Author: Anne Curry) in Posts in English
By Anne Curry
The city of Bordeaux, capital of English Gascony, surrendered to Charles VII of France on 30 June 1451. This marked the end of effective English rule in an area of France which had been held by the English crown since the mid twelfth century. Yet the Gascon rolls do not end until 3 March 1468. That is almost seventeen years later.
Why should a Gascon roll have been continued for so long? This is ...